Jenks House (Brookline)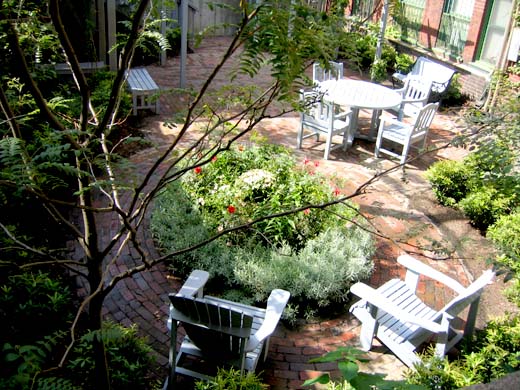 Jenks House is a permanent residence in Brookline run by the Pine Street Inn for 26 formerly homeless people. The garden is designed to create a changing view of colorful plants, shadows and interesting paving throughout the year and to function as a gathering place in pleasant weather with seating in both shade and sun.
Many people were involved in making this garden: Eleanor Batuyios of the PSI had the vision; the Community Outreach Group found me—and much of the funding; Morris Tyler designed and supervised the construction of the pergola and fence by Alan Gould; Weston nurseries contributed the plants; Alan MacKinnon's New Visions Landscape team installed the paving and the plants. The residents' enthusiasm and the generosity of the many contributors made it possible to open the garden in September, 2003.
Before Beginning Work
Constructing the Garden
Views of the Completed Garden