Ovals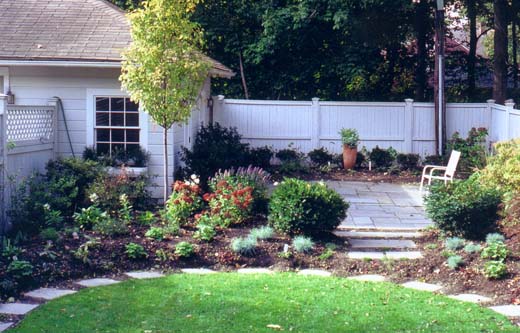 After 20 years this family was ready for a new garden design. Their children had outgrown the rope swing and sandbox, several important trees had died, and a new kitchen/family room necessitated a different path from the driveway and an improved view from the kitchen table.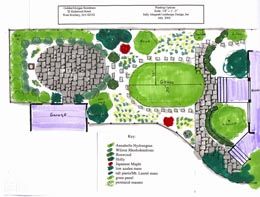 The new design reshapes the space to fit the family's changed life. A new bluestone walk gives attractive (and dry) access from the driveway through the garden to the kitchen.
The effectiveness of the garden as a view from the new room is strengthened by the creation of two ovals: a bright foreground of grass in a flowering frame of perennials and a shady background bluestone oval, surrounded by evergreen shrubbery. The second oval is large enough for parties, but sufficiently isolated for reading and meditation.
VIEW FROM THE NEW KITCHEN/FAMILY ROOM
VIEW TOWARDS THE HOUSE FROM THE TERRACE.
GARDEN, SPRING 2003.